What To Expect in a Family Law Court in Harris Co., TX
All family law matters in Harris Co., Texas are assigned to a court in downtown Houston. Regardless where you live in Harris County, all family law cases are handled in downtown Houston.
What Is Family Law?
Family law is generally considered divorces and matters involving children, like child custody and support. Post-divorce modifications of child arrangements, like support and custody, are also included. Family courts also hear adoptions, CPS cases and domestic violence.
The Texas Family Code contains five Titles and 266 chapters. "Family law" means matters under the Family Code. The titles are:
Title 1: The Marriage Relationship.
Title 1-A: Collaborative Family Law.
Title 2: Child in Relation to the Family.
Title 3: Juvenile Justice Code.
Title 3-A: Truancy Court Proceedings.
Title 4: Protective Orders and Family Violence.
Title 5: The Parent-Child Relationship and the Suit Affecting the Parent- Child Relationship.
Which Courts Hear Family Law Cases In Harris Co., TX?
In Harris County, TX a total of 18 courts handle matters under the Texas Family Code. Each is numbered by the legislature when it's established. The number has nothing to do with the floor the court is on or its importanc.
What are the 10 Family Courts In Harris County, Texas?
The ten Harris County courts that hear general family law matters not involving domestic violence, Attorney General child support, or juvenile justice are:
What Cases Are Heard In 10 Family District Courts?
Family code matters not handled by another court, like divorces and issues regarding the parent-child relationship, such as custody and support, are handled in ten Family District Courts. These ten courts also hear termination of parental rights and adoptions. These are in the civil courthouse at 201 Caroline St. Houston, TX 77002.
Each Harris county family court has two judges, one elected district court judge and an associate judge chosen by the district judge. They are mostly on the 15th and 16th floors. Two are on the 8th. A case is assigned to a court when it is first filed and, as long as the matter remains in Harris County, it stays in that court; even if a new judge is elected.
What is the Domestic Violence Court in Harris County Texas?
In Harris County, the 280th District Court is dedicated to family violence. All Harris Co. domestic violence protective orders are handled in the 280th. The 280th District Court is in the Juvenile Justice Center, 7th floor, 1200 Congress Ave., Houston, TX 77002. Judge Barbara J. Stalder presides over the 280th. That court has no associate judge.
The 280th District Court deals exclusively with domestic violence protective orders. Texas' protective order statute is broad, and violence does not necessarily require physical contact. It also includes dating and post-divorce relationships.
What Are the Juvenile Justice Courts In Harris County
Matters under the Juvenile Justice Code, Titles 3 and 3a of the Texas Family Code, are heard in:
The Hon. William Thursland, Associate Judge.
Juvenile Justice Center, 1200 Congress, 5th Floor, Houston, TX 77002.
The 314th Juvenile court, The Hon. Michelle Moore Presiding.
The Hon. Eric Andell, Associate Judge.
Juvenile Justice Center, 1200 Congress, 5th Floor, Houston, TX 77002.
The 315th Juvenile court, The Hon. Leah Shapiro Presiding.
The Hon. Dena Fisher, Associate Judge.
Juvenile Justice Center, 1200 Congress, 7th Floor, Houston, TX 77002.
These are not custody or child support courts. They are typically matters involving juvenile delinquency arising under Title 3 of The Texas Family Code, The Juvenile Justice Code, and Title 3a, Truancy Court Proceedings.
Are There Special Child Support Courts?
Title IV-D Child Support Courts
Special courts hear child support cases brought by the Office of the Attorney General of Texas. They are called IV-D ("four D") courts because they are created under The Social Security Act of 1975 Title IV-D, which authorizes and partly funds state services to collect child support.
Harris County IV-D courts are in the old Family Law Center in downtown Houston, at 1115 Congress, Houston, Texas. Harris County has four IV-D courts, and each has one judge:
IV-D Court No. 1 – The Hon. Gregory R. Wettman presiding.
IV-D Court No. 2 – The Hon. Frank P. Pierce presiding.
IV-D Court No. 3 – The Hon. Veronica Torrez presiding. And
IV-D Court No. 4 – The Hon. David Longoria presiding.
IV-D judges are not elected and are actually Associate Judges. Their decisions may be appealed to a referring district court.
Only the Office of the Attorney General may initiate a case in a IV-D court. Those courts are busy and crowded, and resemble traffic court. Typically, the assistant attorneys general try to negotiate each case, and only those with no agreement are heard by the Judge. Agreements are common in IV-D court.
Although it's common for respondents to be unrepresented, an attorney employed by the Office of the Attorney General will prosecute the case, whether to impose or increase child support; or to seek unpaid child support. It is unwise for respondents to represent themselves. Lawyers who regularly practice in IV-D court charge reasonable fees.
Can An Associate Judge's Ruling Be Appealed?
An Associate Judge's ruling may be appealed to the District Judge, who hears the matter anew from the beginning. It's as if the Associate Judge never heard it, and all testimony and evidence is presented again. A party may object to the Associate Judge hearing a trial, including child support enforcements, but must do so within 10 days of learning the Associate Judge is assigned to the trial. No objection may be made to an Associate Judge hearing most other matters, but the decision can be appealed to the District Court Judge. Parties may waive their right to appeal the Associate Judge. This must be in writing and can move a case to the front of the line. It's more efficient to hear a case once, knowing it will not be appealed.
Which Courtroom Do I Go To?
Each of the family courts above has two judges, so two courtrooms. The main courtroom is usually occupied by the elected district court judge. Next to each courtroom is a narrow hallway ending with a door that leads to the associate judge's court. The door to the associate judge's courtroom is usually locked and the bailiff allows people in as requested by the associate judge. If your case is assigned to the associate judge, line up in the hallway outside the door and wait to be called by the bailiff.
If your lawyer has not told you to meet at a particular place, go into the main courtroom a few minutes before the time of your hearing.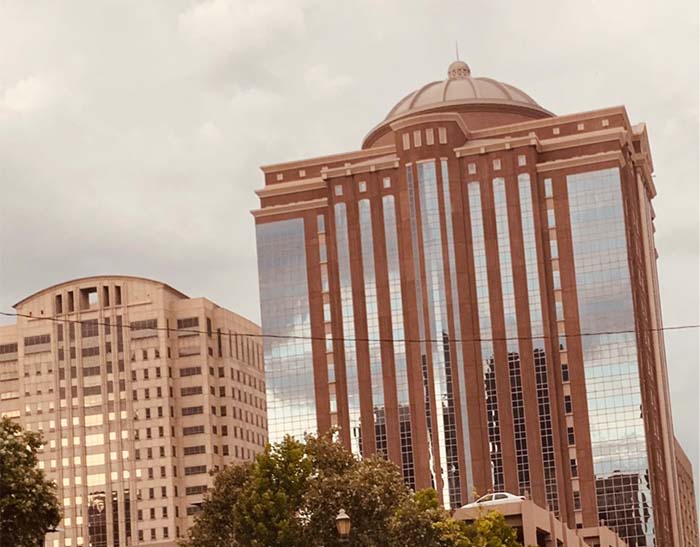 Allow Time for Courthouse Security & Busy Elevators
All Harris County courts have security similar to an airport. Everyone entering without a county-issued badge must remove their shoes and pass through a metal detector. All bags are x-rayed. Be careful not to bring any weapon or pepper spray, etc. It will be confiscated and you might get it back when you leave. Guns are not allowed in a courthouse, except by law enforcement personnel. A concealed handgun license does not authorize bringing a gun into a courthouse.
The Harris County Civil Courthouse has 17 floors and two elevator banks. One goes to floors 1 – 8. The other to 8 through 17. In the mornings there are usually elevator delays. Allow at least twenty minutes to get from the front door through security and up the elevator to your court.
Even though society is becoming less formal, do not dress casually for court. Judges do not allow shorts, T-shirts or flip-flops. If you wear those, you might not be allowed to participate in your own case. Unlike criminal law, a family law case may proceed without all parties.
Men should wear a shirt with a collar buttoned near the top and tucked in, long pants that are not jeans, with a belt, and closed shoes with socks. Women can wear the same or equivalent. Although the courts are more lenient about what women may wear, shorts are rarely tolerated. Closed shoes and conservative clothes are best. If unsure, ask your lawyer about what you plan to wear. Many lawyers forget to discuss it with their client, and are pleased when the client raises it. Conservative and modest dress is best.
Your lawyer will tell you what to bring for your case. Besides that, bring a book, game or full battery on your phone or IPad. There is a lot of time waiting at court, and will be easier with something to occupy your mind. Remember though to shut off your phone inside the courtroom or it may be confiscated.
The Tunnel System
Downtown Houston has an intricate pedestrian tunnel system. Parts of the system have food courts, hair stylists, opticians, dry cleaners… most things you would find on street level. Unfortunately, the tunnels under the courts are strictly for walking between buildings. They are air conditioned in the summer, and great to get out of the rain, but don't have facilities or anywhere to sit. The system runs between buildings, but not to every building. Access via the tunnels can be longer than on street level, but also cooler and drier.
Parking
There are plenty of parking lots around the Harris County courthouses. Directly behind the Harris County Civil Courthouse is a multi-story lot with entrances at 1401 Congress and 261 LaBranch. If full, there's a smaller 5 story garage at the corner of Fannin and Franklin, and many open corner lots and other parking garages.
Park & Ride
Houston Metro offers free Park & Ride to jurors. The bus stops at the corner of Congress & Crawford, about 3 blocks from the civil courthouse. Confirm the return time before taking park & ride if you are involved in a case. The bus might not be available when you get out, or you might have to wait an hour during the day.