Get Your Low-Cost Texas Prenup or Postnup Today!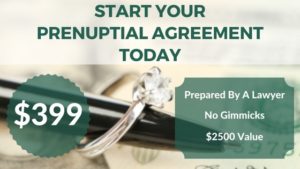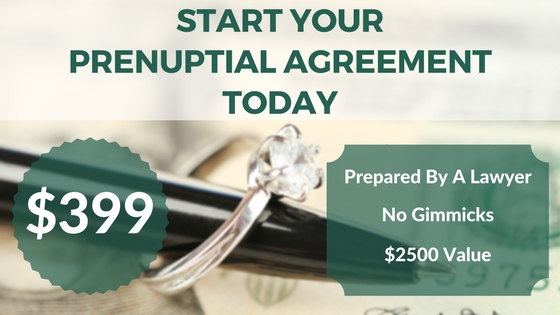 Prenup Package Includes:
a prenuptial agreement
forms for listing assets and debts of each fiancé
2 waivers of financial disclosure
post-marital property agreement to be signed shortly after the marriage
cover letter explaining how to execute and record the documents
half hour phone consultation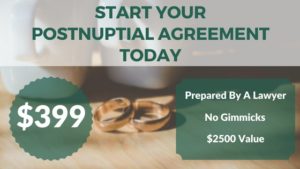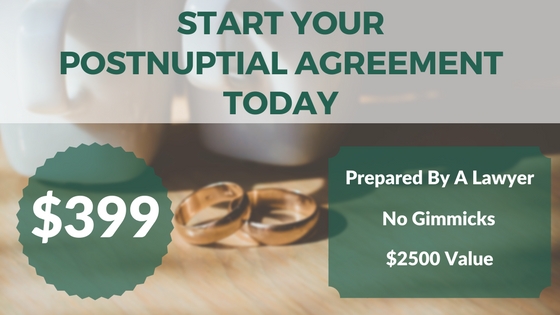 Postnup Package Includes:
a postnuptial agreement
forms for listing the assets and debts of each spouse
2 waivers of financial disclosure
cover letter explaining how to execute and record the documents
half hour phone consultation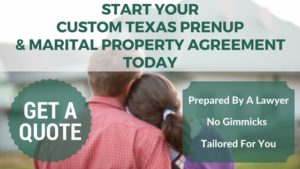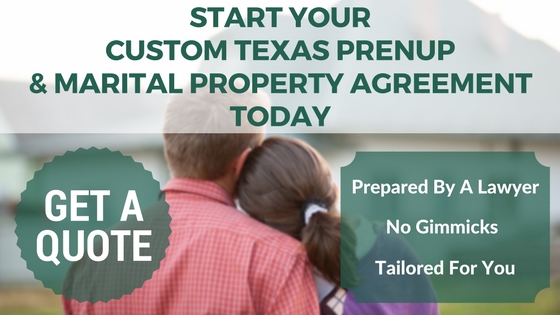 Custom Prenup or Postnup Package:
Our standard prenup & postnup packages do not allow for community property. Each spouse will have a separate estate, can make joint purchases, and give gifts to each other. If you feel you have unique needs please contact us for a custom package.
Do I need a prenup?
As you approach a marriage, many for the second time, and you have accumulated anything of value, a house, a business a 401K. It is advisable to have a prenup that will help avoid these items or any subsequent community property from being created.  We understand that no one enters into a marriage with the assumption that it will end in divorce, however, a prenup also will also allow each spouse the freedom to write a will as they choose.
The benefit of a prenup is that in divorce it changes the argument from who gets more than half the estate to how much deviation there should be from the prenup. Instead of negotiating about how the higher-earning spouse should get less than half the estate, the negotiation is about whether to deviate from prenup and by how much. This can mean keeping a house and retirement, rather than giving up more than half of each. In a Will, with a prenup you can leave your estate as you please without worrying about community property.
Can I get a prenup after I am married?
Yes, you can, it is called a postnup. However, without a prenup, everything acquired during the marriage is presumed community property. Additionally, if your spouse refuses to sign a postnup your only choices would be to stay married and accumulate community property or get divorced.  Community property will get divided in a divorce, and you are limited in what you can do with it in your will.
Why are your standard packages so reasonably priced?
Since 1992 we have written many marital agreements. The standardized packages are extensive and uniform. They create two separate estates and provide there will be no community property. By standardizing the packages we offer a very reasonably priced document tailored to you. There are no blanks to complete. It will have your names, not generic party A & party B.
Will this stand up in court?
Our prenup and postnup packages are written by a lawyer with over 25 years' experience. Our packages meet all the requirements of Texas law. Mr. McNamara has many years of courtroom experience and has written many Texas marital agreements. He knows how to write the documents and can also envision defending them in court. A generic website that sells documents in all 50 sites cannot give that assurance.
How long does it take?
We strive to send you your document package the same day you order. This is customized to you and sometimes this may take up to to 24 hours.